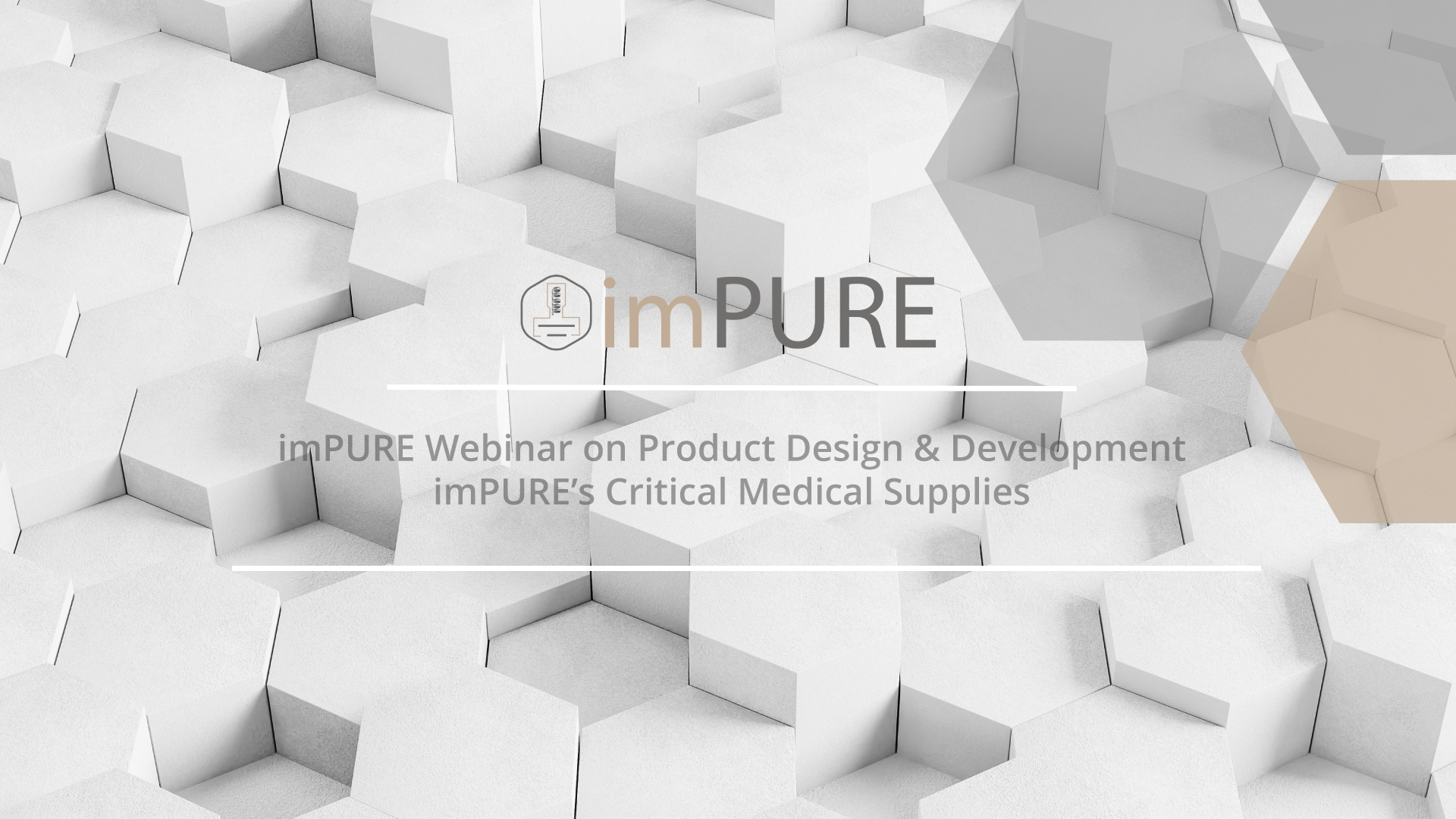 About imPURE
imPURE is an Horizon 2020 funded project which aims to create medical supplies through injection moulding systems enabled by Additive Manufacturing (AM). The aim is to transform conventional injection moulding production lines in a fast and agile way, by developing modular moulds with interchangeable inserts produced by AM technology. Medical components will be manufactured, in particular masks, spikes for vaccines, ventilator's splitters and oximeters. All personal protective equipment and critical medical supplies will be produced in less than 48hr, to be rapidly delivered to patients, vulnerable groups, and health care staff, due to the flexible adaptation of the modular moulds on the industrial production lines.
DATE: 27th October 2021 | 10:00 am – 11:30 am (CEST)
VENUE: Online | Connection details will be provided to registered participants
REGISTRATION: Registration is free of charge but mandatory to this link
TARGET STAKEHOLDERS: Medical device Manufacturers and Distributors
The webinar will focus on Personal Protective Equipment (PPE) and Critical Medical Supplies (CMSs) that have been developed within the project, giving insights to the product design, prototyping and industrial uptake. The repurposed Injection Moulding lines of imPURE will be also presented.
Agenda
    TIME                                                                    TOPIC
10:00-10:10              Introductory presentation by Dr. Kate Trompeta (NTUA – Coordinator)
---
10:10-10:20             Mask case: product design and production by Giulia Sala (STILGOMMA)
---
10:20-10:30            Mask case: repurposing for mask and accessories production by Dimitri Ladikos (PRODUCTA)
---
10:30-10:40            Oximeter case: product design by Song Yang (UOS)
---
10:40-10:50            Oximeter case: electronics of the oximeter by Raùl Gutiérrez (NIT)
---
10:50-11:00            Oximeter case: production in pilot scale by Graeme Scott (PASCOE)
---
11:00-11:10             Vaccine spike and ventilator splitter: product design by Piero Camurati (SIDAM)
---
11:10-11:20             Vaccine spike and ventilator splitter: industrial line repurposing by Ziga Gosar (ELVEZ)
---
11:20-11:30            Q&A session
---